Annabelle & Boomer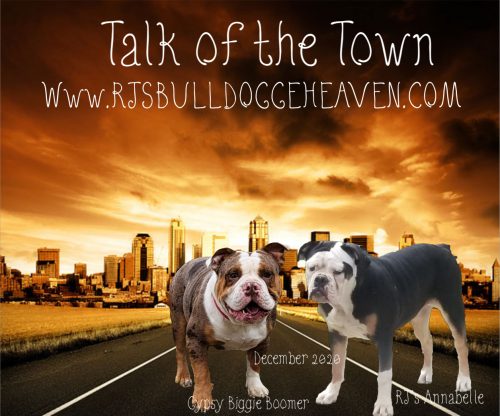 We are very excited about this litter! Annabelle is one of our productions, we chose to keep Annabelle here with us and she hasn't disappointed us. Very sweet temperament and all around perfect Bulldogge. She is a black Tri.
'Boomer is the sire, and we have owned his sister since birth she is our Gracie that just closed her litter (Sold out) we acquired Boomer (Biggie) as an adult male, and he was happy to join his sister and has fit right in with our crew! We hope to enter him into the dog show competition.
Litter born on December 24th and ready to go home on February 18th 2021.
The cost of their Pups are Listed as Pet price , which means their registration papers are marked limited registration meaning no breeding rights are given. Breeding rights can be purchased  but only after a phone interview discussing purchasers vision, goals and living environment of programs.
Updated page February 18, 2021
We have three excellent beautiful girls left, and the page is crowded with our weekly pictures, all reserved pups will be removed now and only the weekly pictures of the three remaining.
The girls!
Jojo week 1
Jojo @ 2 weeks
Jojo @ 3weeks
Jojo @ 4 weeks
Jojo @ 5 weeks
Jojo @ 6 weeks
Jojo 7 weeks
Jojo 8 weeks
Jojo at 9 weeks
Izzy 2 weeks
Izzy  @ 3 weeks
Izzy @4 weeks
Izzy @ 5 weeks
Izzy 6 weeks
Izzy 7 weeks
Izzy at 8 weeks
Izzy at 9 weeks