Conley's Sassafras (Sassy) and Big Daddy's Chocolate Thunder
Sassy is outdoor lover, who enjoys being outdoor or just as comfortable being loved on while being at your side. Thunder who we nick named love bucket loves outside as well where he can be free to explore or be sitting right on your head, lol.
This heat cycle was caught late and we only got one breeding on last day. So we are pleased with these three pups.
Born 12-9-2020
2 Merle females and 1 Chocolate Tri Male.
This litter will not last long, as already a DNA test for a certain gene is ordered by another breeder on one of the females to determine reserve status.
Female Merle pet cost 3000 and Chocolate Tri Male 2600
Full rights can be discussed if desired $400 to approved Breeding programs.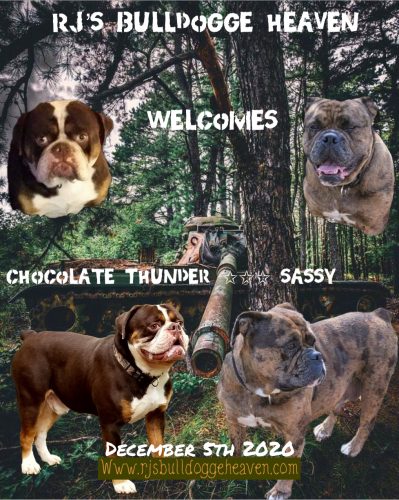 This litter is all reserved
Female #1 reserved
Female #1 week reserved
female #1  3 weeks reserved
female #1  @ 4 Weeks reserved
Female #2 reserved
Female #2 1 week. Reserved
female #2  3 weeks reserved
Male #1  RESERVED
male #1  1 week RESERVED
male 3 weeks RESERVED
male @4 weeks RESERVED
Male @ 5 RESERVED
Male #5 @ 6 weeks, this boy is a looker! RESERVED